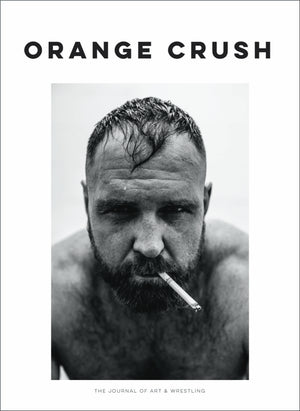 Orange Crush: Volume 2
Sale price Price $25.00 Regular price Unit price / per
Orange Crush: Volume 2 featuring our latest cover star JON MOXLEY is now available for immediate order. 
For Orange Crush 2, Moxley was captured by world renowned wrestling and mixed martial arts photographer Ryan Loco. This 10+ page spread is accompanied by a critical essay by PWInsider.com's Mike Johnson. 
Oversized, perfect-bound and 100 pages, here's what you can find in our new issue:
The rare wrestling drawings of punk rock legend RAYMOND PETTIBON, accompanied by a conversation with MIKE WATT, co-founder of THE MINUTEMEN
ALISSA BENNETT does a deep dive into Vice TV's DARK SIDE OF THE RING
ACH gives an exclusive interview on his Post-WWE comeback to ANDREAS HALE, accompanied by original portraits by artist ANDREW KUO
Orange Crush hosts its first ever comedy roundtable, featuring: RON FUNCHES, KIKUTARO, and JOEY JANELA – moderated by GAME CHANGER WRESTLING'S KEVIN GILL. Accompanied by exclusive illustrations by BRIAN BUTLER
We learn the inner most thoughts of brawler MATTHEW JUSTICE in a profile by DAN DURAY
EMILY PRATT examines the controversies around INTERGENDER WRESTLING
ERIC SHOREY returns to Orange Crush as he shines a light on STILL LIFE WITH APRICOTS & PEARS 
HUNTER BRAITHWAITE examines legendary pop artist and pioneering women's wrestler ROSALYN DREXLER
BRIAN BOUCHER reveals the art star behind the mask of "El C", SHAUN LEONARDO
We look at the art of wrestling portraiture, as WRESTLESPLANIA'S RACHEL MILLIMAN interviews BRAINBUSTER's Michael Watson 
Also featuring the work of: Mio Okazaki, Carly Haack, Nick Karp, and more!